I've worked with Megaworld's International department in different capacities all through out my real estate career and I loved every single on of them. From an independent broker back in 2013, to a resource speaker and even going as far as an assistant country manager.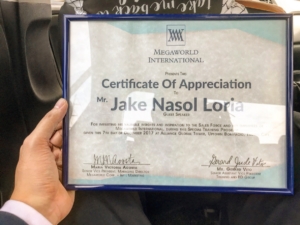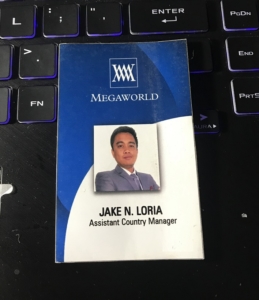 I'm even the proud owner of this Megaworld watch!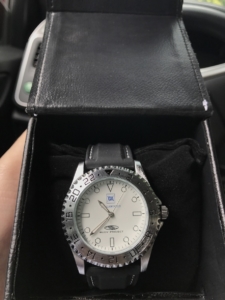 This 2020 though, I've settled to simply being a shareholder, enjoying my dividends.
Here's a little Megaworld background for those not familiar with the developer.
From the PSE: Megaworld Corporation (MEG) was incorporated on August 24, 1989 to engage in real estate development, leasing and marketing. In 1996, the Company shifted its focus to providing office buildings to support BPO businesses when it began development of the Eastwood City township. On August 19, 1999, MEG changed its corporate name to the present one to coincide with its conversion from a purely real estate company into a holding company, although the Company continues to focus on its core competence in real estate development.
Today, I'm sharing the turnover dates of most Megaworld projects for all future brokers, salespersons, investors, buyers, sellers, just in case any one from the group need these particular bit of info.
TURN-OVER DATES

MEGAWORLD PROJECTS

LOCATION

EASTWOOD CITY

April 30, 2012

Le Grand

Near Global One Office, Libis, Quezon City

April 30, 2012

Le Grand 2

Near Global One Office, beside Le grand 1 Libis, Quezon City

December 1, 2013

Le Grand 3

Near Cyber One Bldg, Libis, Quezon City

April 30, 2016

One Eastwood Avenue Tower 1

Fronting IBM Plaza Bldg. Libis, Quezon City

June , 2018

One Eastwood Avenue Tower 2

Eastwood Avenue, Libis, Quezon City

October 2020

Eastwood Global Plaza Luxury Residences

Eastwood Palm Tree Avenue, Eastwood City, Libis, Quezon City

VILLAMOR, PASAY CITY

August 31, 2010

Newport City Sarasota Clusters 1 3 5

Along Resort Drive, Near Villamor Golf Course and Marriott hotel

August 31, 2010

Newport City Sarasota Clusters 2 4

Along Newport Blvd fronting Palm tree Villas 1 and 2

July 31, 2011

Newport City Pinecrest

Along Newport Blvd fronting 81 Newport Blvd

December 31, 2012

Parkside Villas

Fronting Newport Mall and Resorts World Manila along Sales St.

December 31 2012

Palm Tree Villas Tower 1

Along Andrews Ave facing NAIA terminal 3

September 30, 2014

Palm Tree Villas Tower 2

Along Andrews Ave facing NAIA terminal 3

July 31, 2016

101 Newport Blvd

Along Newport Blvd fronting 150 Newport Blvd

February 28, 2015

150 Newport Blvd

Along Newport Blvd near Circulo Del Mundo

2018 First Quarter

Savoy Newport

Along Newport Blvd

December 31,2016

81 Newport Blvd

Along Andrews Avenue beside Palm Tree Villas 1 and 2

May 31, 2015

Belmont Luxury Hotel

East Palm Drive beside Church of St. Therese of the Child Jesus

ENTERTAINMENT CITY
December 31, 2019
Kingsford Hotel
Bay Boulevard, Bayshore City, Parañaque City
December 2021
Grand Westside Hotel South Tower
Bay Boulevard, Bayshore City, Parañaque City
June 2022
Grand Westside Hotel North Tower
Aprill 2022
Gentry Manor Tower A
Aprill 2022
Gentry Manor Tower B
January 2023
Basyhore Residential Phase 2 Phase 2 Cluster F
December 2020
Bayshore Residential Phase 2 Phase 1 (ABCD)

July 31, 2018

Bayshore Residential Phase 1Phase 1

Asean Avenue, Bayshore City, Parañaque

September , 2019

Bayshore Residential Phase 1 Phase 2

Bay Boulevard, Bayshore City, Parañaque

MAKATI CITY

October , 2011

Greenbelt Excelsior

Carlos Palanca Street, near Dela Rosa Street

June 30, 2012

Greenbelt Madisons

Salcedo & Sotto Streets

May 31, 2016

Greenbelt Hamilton

Legazpi St., Legazpi Village, Makati City

April 30, 2019

Greenbelt Hamilton Tower 2

Legaspi St., Legaspi Village, Makati City

December 31, 2012

One Central

Near RCBC Plaza Geronimo corner Buendia Makati City

June 30, 2014

Two Central

Near RCBC Plaza Geronimo corner Buendia Makati City

December 31, 2016

Three Central

Near RCBC Plaza Geronimo corner Buendia Makati City

April 30, 2017

Paseo Heights

Alfaro St. (LP Leviste St.) Salcedo Village, Makati City

October , 2018

Salcedo SkySuites

Sen. Gil Puyat Ave., Makati City

June 30, 2021

The Ellis

L.P Leviste Street, Salcedo Village, Makati City

First Quarter 2020

San Antonio Residence

Malugay St., Makati City

FORT BONIFACIO, GLOBAL CITY (City of Taguig)

December 31, 2013

Eight Forbestown Road

Along Burgos Circle Forbes town road, Bonifacio Global City, Taguig

4Q 2017

One Uptown Residence

Uptown Bonifacio, North Bonifacio District, Bonifacio Global City

June 2018

Uptown Park Suites

Uptown Bonifacio, BGC, Taguig City

September 30, 2019

Uptown Park Suites 2

Uptown Bonifacio, BGC, Taguig City

June , 2018

Uptown Ritz

36th Street Corner Bonifacio Drive, Uptown Bonifacio, Taguig City

McKINLEY WEST (City of Taguig)

January 31, 2022

Park McKinley West

McKinley West, Taguig City

December 2021

The Albany

McKinley West, Taguig City

June 30, 2018

St. Moritz

Le Grand Avenue, McKinley West, Fort Bonifacio, Taguig City

McKINLEY HILL (City of Taguig)

February 28, 2011

Stamford Executive Residences 2

Florence way, McKinley Hill Fort Banifacio, Taguig City

December , 2011

Stamford Executive Residences 3

Florence way, McKinley Hill Fort Banifacio, Taguig City

December 31, 2012

Morgan Suites 1

Florence way, McKinley Hill Fort Banifacio, Taguig City

June 30, 2013

Morgan Suites 2

Florence way, McKinley Hill Fort Banifacio, Taguig City

June 30, 2013

Morgan Suites 3

Florence way, McKinley Hill Fort Banifacio, Taguig City

June 30, 2011

Tuscany A/B/G

Upper McKinley Road, McKinley Hill, Fort Bonifacio, Taguig City

December , 2011

Tuscany C/D/E/F

Upper McKinley Road, McKinley Hill, Fort Bonifacio, Taguig City

December 31, 2013

The Venice Tower A

Genoa St. and Maples drive, Mckinley Hill Fort Bonifacio

September 30, 2014

The Venice Tower B, C, D

Genoa St. and Maples drive, Mckinley Hill Fort Bonifacio

December 31, 2014

The Venice Tower E

Genoa St. and Maples drive, Mckinley Hill Fort Bonifacio

December 31, 2016

The Venice Tower F

Genoa St. and Maples drive, Mckinley Hill Fort Bonifacio

June 30, 2017

The Venice Tower G

Genoa St. and Maples drive, Mckinley Hill Fort Bonifacio

February 29, 2016

Viceroy Tower 1

Right after Morgan tower 3, Mckinley Hill Fort Bonifacio

May 31, 2016

Viceroy Tower 2

Right after Viceroy tower 1, Mckinley Hill Fort Bonifacio

Last Quarter 2017

Viceroy Tower 3

Florence Way, McKinley Hill, Taguig

June 30, 2017

Viceroy Tower 4

Florence Way, McKinley Hill, Taguig

December 2021

The Florence Tower 1

Florence Way Street, McKinley Hill, Taguig City

December 2021

The Florence Tower 2

Florence Way Street, McKinley Hill, Taguig City

December 2021

The Florence Tower 3

Florence Way Street, McKinley Hill, Taguig City

QUEZON CITY

2012

Manhattan Parkview Tower 1-2

Near Gateway Mall Araneta Center, Cubao

2013

Manhattan Parkview Tower 3

Near Gateway Mall Araneta Center, Cubao

2011

Manhattan Parkway Tower 1-3

Near Gateway Mall Araneta Center, Cubao

last quarter of 2014

Manhattan Heights Tower A

Near Gateway Mall Araneta Center, Cubao

2015

Manhattan Heights Tower B & D

Near Gateway Mall Araneta Center, Cubao

2017

Manhattan Heights Tower C

Near Gateway Mall Araneta Center, Cubao

Manhattan Plaza

December 31, 2016

Golfhill Gardens

Capitol Hills (Manotoc) Drive, Quezon City

CEBU

December 31, 2014

8 Newtown Boulevard Tower 1-4

Mactan Newtown, Mactan Lapu-Lapu City, Cebu

June , 2016

One Pacific Residence

Mactan Newtown, Mactan Lapu-Lapu City, Cebu

Decemeber 31 , 2017

One Manchester Place 1

Mactan Newtown, Mactan Lapu-Lapu City, Cebu

June 30, 2018

One Manchester Place 2

Mactan Newtown, Mactan Lapu-Lapu City, Cebu

June , 2018

Savoy Mactan Hotel

Mactan Newtown, Mactan Lapu-Lapu City, Cebu

January 2022

Belmont Mactan Hotel

Newtown Blvd., Mactan Newtown, Mactan Lapu-Lapu City, Cebu

ILOILO

December 31, 2019

The Palladium

Megaworld Boulevard, Iloilo Business Park

June , 2018

Lafayette Parksquare

Along Megaworld Blvd. and Java Road, Iloilo Business Park, Iloilo City

June 30, 2021

Saint Honore

Mandurriao, Iloilo City

December 2021

Saint Dominique

Mandurriao, Iloilo City

April 30, 2017

One Madison Place Tower 1

Mandurriao, Iloilo City

October , 2017

One Madison Place Tower 2, 3

Mandurriao, Iloilo City

BACOLOD

To be announced

Forbes Hills

Circumferential Road, Bacolod City, Negros Occidental

PAMPANGA

December 2019

Shophouse District

Capital Town

March 2022

Chelsea Parkplace

Capital Town