Great news to the industry! The Department of the Interior and Local Government has published Memorandum Circular Number 2019-86 last 04 June 2019, reiterating to all City Mayors, Municipal Mayors, Punong Barangay (Brgy. Captains), DILG Regional Directors, DILG Field Officers and all other government employees and officials about the strict implementation of Republic Act 9646 or The Real Estate Service Act of The Philippines.
This memo was shared yesterday by the decorated real estate professional (broker, appraiser, consultant and PRC lecturer), Mr. Jovi Tupaz, in a Facebook real estate group.
Below is a screenshot of the post.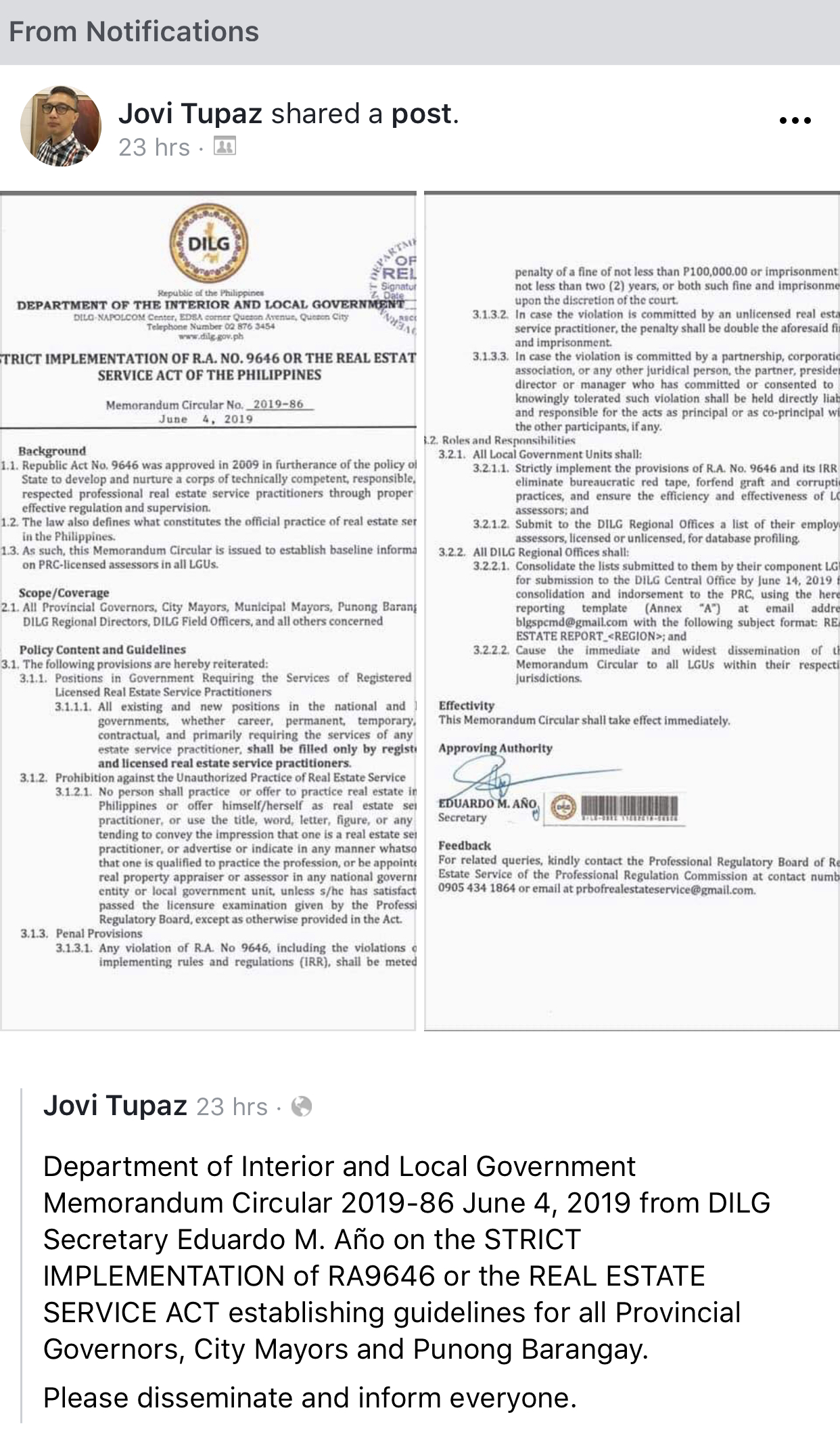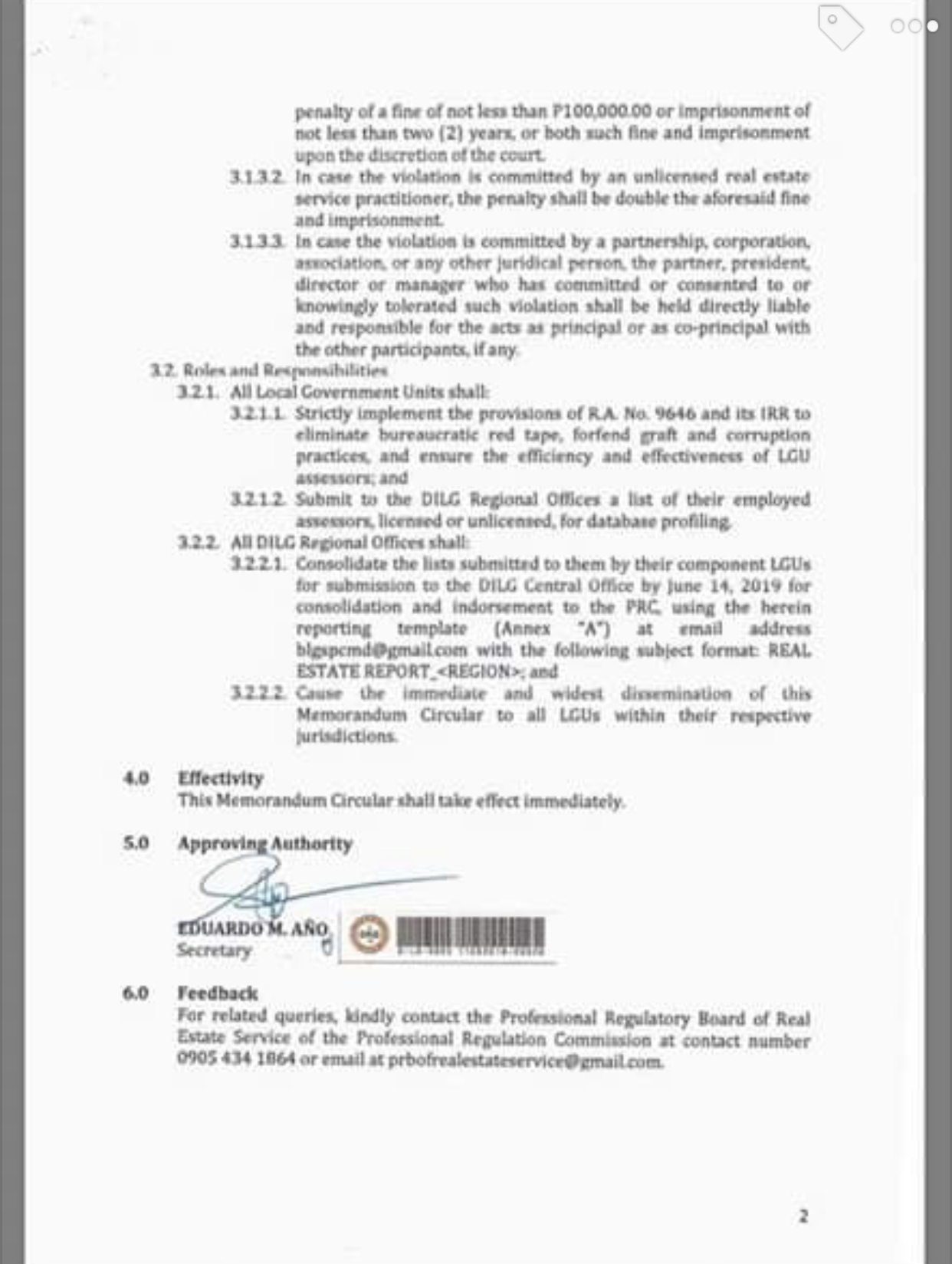 What are the implications of this memo?
First, this sets a reminder to all the concerned that government regulation is slowing tightening.
Thanks to DILG Secretary Eduardo Ano, the DILG has now joined the growing list of government agencies that are monitoring and implementing R.A No. 9646. (The first two government agencies are the PRC Real Estate Board and HLURB).
We're hoping the Bureau of Intern Revenue, DTI and SEC joins this list.
The Bureau of Internal Revenue (BIR) can easily crosscheck all the active real estate professionals in the country with the PRC Real Estate Board. Those who declared revenue can then be crosschecked with the Department of Trade and Industry (DTI) or the Securities and Exchange Commission (SEC) to see if they are self-employed or an employee. From there, the Bureau of Internal Revenue can weed out the individuals and companies that are evading taxes.
R.A. No. 9646 require people to either be DTI/SEC registered (self-employed) or become registered with a brokerage (employee), if they will engage in any real estate practice, I.e. Sales, rentals, leases, appraisals, consultancies.
The Bureau of Internal Revenue can even go further by requiring all the property management companies that are actively managing any building, village or subdivision into strictly submitting Contracts of Leases and Deeds of Absolute Sale or summaries of both documents that are endorsed to their offices on a monthly basis. These documents can then be used by the Director of the Bureau of Internal Revenue to require the same property management companies to make it mandatory to record if a real estate broker or agent was involved in the sale, rent or lease of the properties.
Based on our experience, the administrators of the high-end villages and condominiums have started moonlighting as brokers and agents for home sellers and landlords. Since these administrators control the ingress and egress of people in their respective villages and buildings, they have started restricting entry of real estate professionals and begun selling, renting, leasing properties on their own or through a dummy.
The moment these three government agencies strictly implement R.A No. 9646, there would be a possibility that we will see a rise in real estate business registration or a decline in unlicensed real estate service practice.
Second, this memo comes at a great time since Philippine Real Estate Investment Trusts (REITS) is starting to take off. Ayala Land is the first to register a REIT company. Since this government body is now serious in accepting only licensed professionals to work for them, the private companies that are looking to register as REIT entity may hopefully see it as an effort to uplift the real estate service practice and follow suit in executing the strict compliance of R.A. No. 9646.
REIT companies would be heavily involved in rentals/leases so we're hoping they begin requiring employees that will handle their rental/lease departments to be licensed professionals.
Finally, this effort of the DILG will hopefully be a sign for the PRC Real Estate Board to adopt a faster way to release new licenses. Many who applied for the Salesperson license last 2018 have not yet received their license this 2019. With the new PRC Chairman, we hope he can solve this issue soon in order to put our service industry at par with the Western countries and hopefully, maybe even become a contender as the gold standard for the ASEAN.