Carpe Diem!
On the 7th of December 2017, I was given the great privilege to speak at the Megaworld International Sales Division's annual event, which happened at their new high-tech office at the Alliance Global Tower in Bonifacio Global City. The event was a gathering of the top sales executives from the different countries where Megaworld deployed its sales force. Present were Filipino representatives from the regions of North America, Europe, Middle East, Asia Pacific and the Oceana.

For the benefit of those not familiar, Megaworld is one of the Philippines' leaders in real estate development and is a publicly traded company. To adapt to the innovations that have been happening in the real estate industry, the international sales division has started its initiative to digitalize its lead generation process, a move to support the traditional processes of lead generation that the sales teams have grown accustomed to.
As the representative of Real Estate Lab Philippines and an advocate in the use of new real estate technologies, I was pleased to share the newest tools in the market, but more importantly, I was able to preach the underlying concepts that made the tools invaluable in today's cutthroat environment.
I stated writing this piece 7 days ago and as you can see, it took awhile for me to organise my thoughts. Sadly, my cappuccino did not help.
It has already been 14 days since the event and I am now in Albay, watching the rainfall and enjoying the cold, fresh December air. I love this place, but what I love the most is the luxury of time to be able to share information with people like you—and that is what I would like to accomplish today.
Please allow me to write this as an introduction, to the list of tools that I will be publishing in the next article(s). My sole intention in writing this is to help teach you and everyone else, who are willing to learn the new concepts in lead generation and is open in utilising the newest tools to properly execute those concepts–which will ultimately lead to business growth.
Let me be clear, I am no business guru nor am I one of those self-bloated, so-called "experts". I am just like you, a normal person, motivated and ambitious.
BACKGROUND
Let's begin with my background. It's my responsibility to give you a reason as to why you need to trust me and why it would be helpful for you to follow my advice.
I started my real estate career in 2012. I was 24 years old and worked as a Marketing and Communications Manager for RE/MAX Asyenda. It was the first franchise of RE/MAX in the Philippines. In 2013, I became its General Manager, and that same year, I passed the real estate brokers exam. I was a full-fledged real estate broker with PRC License Number 18631.
In 2014, I left the company and started Calonge-Loria Investments, an online brokerage and (supposed-to-be) securities dealer, in which I intended to sell real estate properties, mutual funds and contracts of difference. It was too troublesome to comply with the requirements to sell securities, so I opted to stick with real estate. 2014 was also the same year I joined Serge Bourgoin and Team Leading Edge, an Edmonton-based real estate team operating under RE/MAX Elite. I became their Director for Digital Marketing—a title I still hold until today.

In 2016, I rebranded Calonge-Loria Investments to The Real Estate Group Philippines and co-founded LYST with Chux Hizon, the founder of Rentpad.com.ph. LYST was the first and only peer-to-peer listing exchange platform in the Philippines. It was our bold experiment to create a central avenue for real estate professionals to exchange listings and requirements, a substitute to the Multiple Listing Service.
This year, 2017, I pursued the creation of Real Estate Lab Philippines, a real estate tech incubator. It was an idea that I had in as early as 2012. Under Real Estate Lab, I created a non-profit, online-media platform called Philippine Real Estate News, it aggregates all real estate related news from the major media outlets, real estate developers and other influencers. Philippine Lead Exchange was my solution for new professionals to kick-start their real estate business, by giving them leads. Philippine Real Estate Jobs is a real estate dedicated job-listing exchange. Philippine Real Estate University is a future online education platform. Philippine Real Estate Management for real estate consultancy and Philippine Real Estate Investment Trusts for alternative investment advisory and CLOUDSERVIZ, a revenue tracker, perpetual record-keeping, lead & customer management software.
2017 was also the year that my wife and I had breached the ₱2.5 million-revenue mark and Yes! All of it was taxed.

For a business that started from humbly ₱0 and 0 listings, ₱2.5 million in revenue was worthy of the word, "remarkable". This meant we were averaging ₱208,333 in monthly commissions. This was achieved with just the 2 of us; now that we have a few more people to help, we're looking to multiply that by 5x.
The tools and concepts that we used, worked. It worked for us and I am certain it will work for you.
I've always said that in real estate brokerage, the measure of success is the amount of profit you bring in to your business. It's not the quantity of listings or volume of customers. It's all about the money. If a person comes into real estate and says s/he is working to serve the people, s/he is better off in politics or in F&B.
You have to understand, successful brokers are "coin-operated"; they only spend their energy on something that would be financially rewarding.
CONCEPTS
Working smart is the guiding principle behind the concepts. You remember the Pareto principle?
"…(also known as the 80/20 rule, the law of the vital few, or the principle of factor sparsity) states that, for many events, roughly 80% of the effects come from 20% of the causes."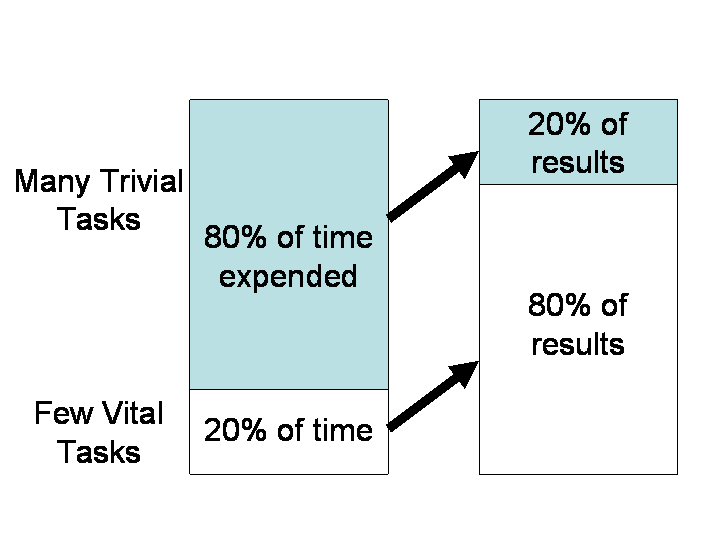 In real estate application, this means, using technology to do 20% of the work in order to get 80% result.
Having a fair knowledge of how the North American real estate system operate and an experience in local brokerage gave me a unique insight on what first world concepts and methods are applicable for a professional to succeed in a third world country like the Philippines.
Fun Fact: Many real estate concepts in North America will not (yet) work in the Philippine business setting. There are a lot of great reading materials detailing how Americans and Canadians do their business, but these aren't all compatible with our work environment, so whenever you read any of their literatures, please take caution.
CONCEPT THAT DOES NOT WORK: MULTIPLE LISTING SERVICE
A great example of one system and concept that is not (yet) applicable in the Philippines is the Multiple Listing Service, or more commonly referred to as MLS. It's a digitalised version of a paper listing distribution system, created by the US organisation called National Association of REALTORS®, in 1975. Since then, many organisations worldwide adopted the MLS to organize and centralize their listings.
All real estate professionals that operated within an MLS system were required to comply with the organization's strict rules and regulations. Failure to comply was dealt with fines and possible suspension or revocation of MLS membership. The MLS provided consumers with safety and security against fraudulent agents. Duplicate listings and misinformation were avoided.
Another Fun Fact: This does not and will not (yet) work in the Philippines. First, the local real estate industry is very fragmented. The government has mandated the creation of the Professional Regulatory Board of Real Estate Service (PBRES) to regulate the industry, but from its inception, it has been hounded with internal disputes. Many real estate professionals have lost faith and confidence in the competence of the PBRES officials. This failure in confidence is the ultimate reason for its demise.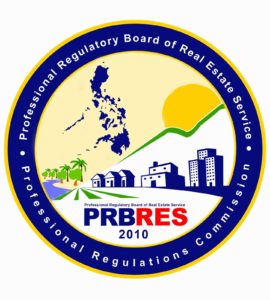 Without a functioning central authority to oversee and govern the real estate service community, many brokers and agents have opted to join or continue their memberships with the local competing organisations, each with its own distinct rules, views, values and opinions.
Philippine Real Estate Organisations:
In a Wikipedia article, it's been cited that the Philippines has an MLS operated by PAREB:
"The Philippine Association of Real Estate Boards (PAREB) operates the PAREB MLS, an Multi Listing Service (MLS) which provide real time property listing exchange nationwide among PAREB Brokers."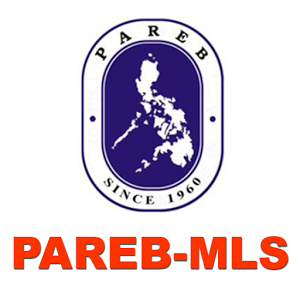 The PAREB MLS operates under the domain name: pareb.com.ph. This should not be confused with the alternative PAREB website, under the domain name: pareb.org.ph (although, both are operated by the same organization).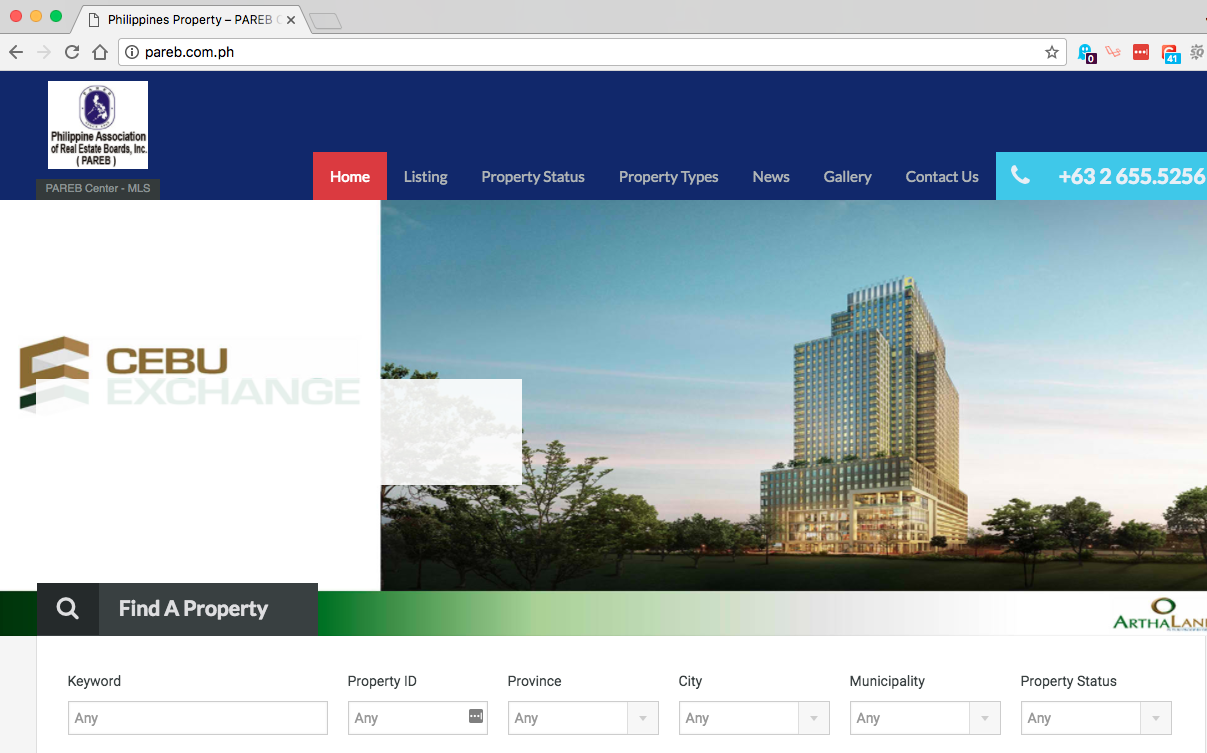 In reality, what PAREB has is a parochial MLS system operated within a real estate website with exclusive listings strictly from their 5,000+ members. The website was registered by Caridad Cruz on 23 September 1999 and the PAREB ONLINE (MLS) initiative was only launched last 2013.
PAREB took a good initiative but, unfortunately, this will not suffice. As a disclosure, I took my broker's review under PAREB and I have very close colleagues who are loyal PAREB members. No bias here. I am just pointing out a real life example. If the other organizations published on Wikipedia that they also own an MLS, I'll definitely use them as an example as well.
For an MLS to function properly here in the Philippines, it needs four distinct properties:
Professionals should be required to list their properties on a regional MLS.
Members should upload proprietary listing data. This is very important since the data needs to be owned by a broker or an agent under an Exclusive Listing Agreement with the seller.
It also needs to be concise.
Up-to-date.
Must not have any duplicate entries from other brokers and agents in other databases.
The Philippine MLS from the Wikipedia example does not and cannot achieve the first two properties; it was only intended for an exclusive group, and the Philippines do not have a law enforcing an Exclusivity Agreement between a broker or agent and a seller. One seller can have as many brokers or agents as s/he wishes.
I have experienced dealing with a property in one region that had three different agents with three different prices, all claiming to have an Authority to Sell (ATS) from the owner. The ATS meant they can all legitimately represent the seller, but in the course of their business, each jacked up the selling price in order to get more commissions. Overpricing is a real thing in the Philippines.
MLS is just one of the many concepts that, again, cannot and will not (yet) work in the Philippines, unless the government amends Republic Act 9646, other wise known as Real Estate Service Act, to include in the law the mandatory requirement to have all sales professionals list with a regional MLS and encourage all sellers to exclusively list their properties with only one real estate professional, for a specific time-frame.
I do not intend to list all the inapplicable concepts, so let us move on with the applicable ones.
CONCEPT THAT WORKS: MARKETING FOR LEAD GENERATION
In digital marketing, these are the general go-to avenues of professionals:
Email Marketing – The use of newsletters
Social Media Marketing – Posting on Facebook, Twitter, etc
Content Marketing – Creation of blogs, Infographics, etc
Referral Marketing – Use brand advocates to do word-of-mouth campaigns
Affiliate Marketing – Pay commission to other website owners to show your brand or product
Search Engine Optimization – Method of getting website visitors for free
Display Advertising – Ads that solely use graphics
Mobile Advertising – Ads specifically designed for cellphones or tablets
Search Advertising – Text Ads placed at the Search Engine Results Page
Video Advertising – Mostly YouTube ads
Multi-million peso real estate brokerages can afford all of these avenues. Realistically, if you would like to use all of it, you will need a dedicated team, two people at minimum, to properly execute. This duo will have to generate unique blogs and graphics and post it on all the social media platforms, daily, for twelve months. They would have to check and double-check all the parts of the website to make sure it is SEO compliant. Then, they will have to make sure all forms of advertising are effectively reaching its target market.
In the 1990's, if you were a broker or an agent, your sole job was to sell. Think of the film Glengarry Glen Ross. Your brokerage company's job was to provide the leads, while you close it—then, you're eligible to have coffee.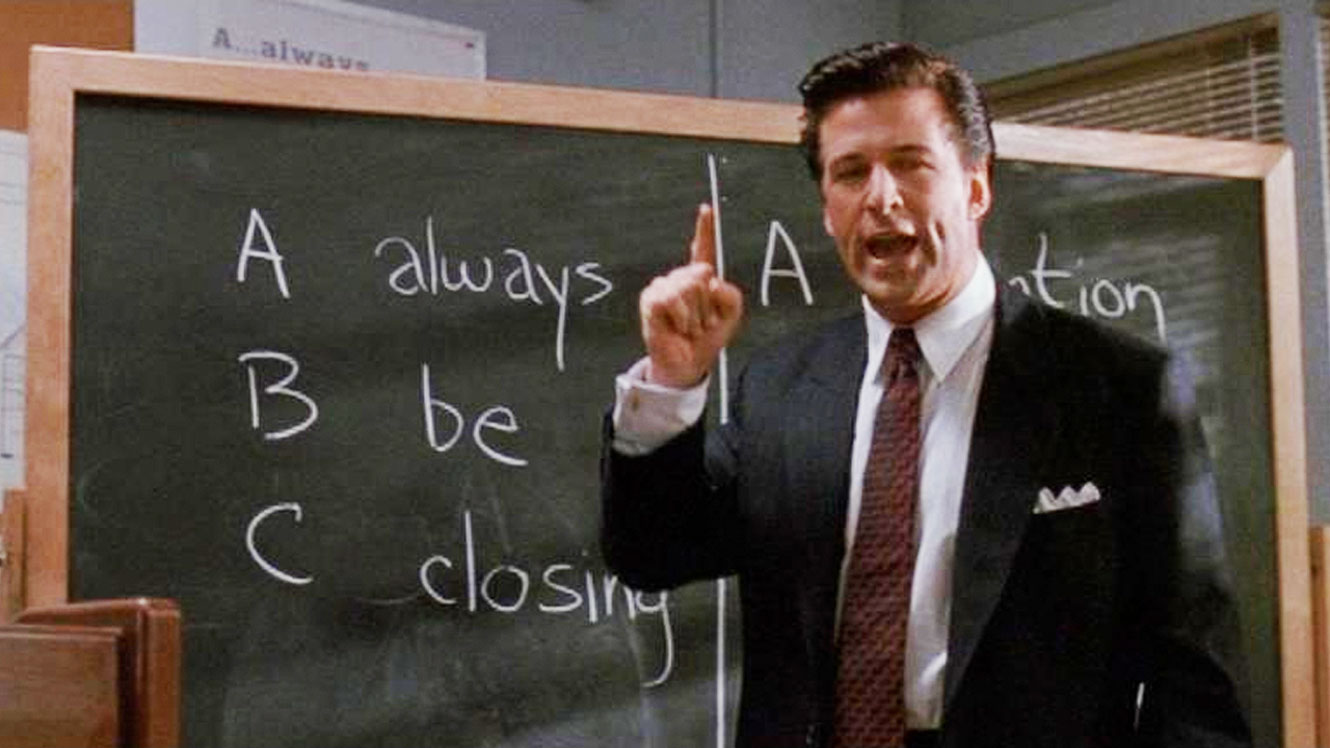 At this day and age, you are both a salesman and a marketer. You will have to fish for the leads and close it, so that you may put food on the table.
For an independent broker or agent to be successful, s/he does not need to use all of the aforementioned avenues.
GUERRILLA WARFARE
I built my brokerage with guerrilla warfare in mind, because I did not have any resources to go up against the big companies. I tried to find a way to achieve my objectives without directly competing with them.
I dedicated my time in establishing two tactics: short-term & long-term.
SHORT-TERM
This involved solely search advertising. I used Google to advertise all my squeeze pages. These squeeze pages were simple, one-page websites dedicated in capturing tenant and buyer leads. Here are a few examples:
These websites were easy to develop and deploy. For greater affectivity, I made sure to cast a wide net.
This meant creating websites that will capture people that were just looking around and doesn't know yet where specifically they'd like to buy or rent (Website's No.1 & No.2).
I then targeted people who were "middle-of-the-road" kinds; these were the ones who have already decided what city they would like to live in, but no specific barangay, subdivision or building yet (Website No.9).
Finally, I made sure to capture leads that have already decided specifically what condo they would like to call their next home (Websites No.3 to No.8), these six websites were generating high-quality leads.
With the permission of my wife, who managed the finances, I was able to allocate ₱5,000 per month for each website. It worked magnificently, that with each ₱5,000, we were getting a return of ₱20,000 or more from the closed deals.
LONG-TERM
Once the short-term tactic was running, it was set on autopilot from there. I then started the tedious work on the long-term tactic. This involved the following:
Search Engine Optimization (SEO)
Social Media Marketing
Email Marketing
Content Marketing
I incorporated all these things on our main website www.TheRealEstateGroupPhilippines.com (TREGP). TREGP contained our sale and rental listings, other services and blogs, like this one that you're reading. Fortunately, WordPress, the framework from which this website was built from, has many plugins to help with SEO compliance and maintenance.
SEO
Proper SEO will help your website rank high on certain keywords from the organic search results of Google. "Organic" means your website will appear on the first page of the search results without paying the advertising fee. Different websites compete to rank for different keywords. I.e. there are websites that aim to rank first for the keywords "Makati Condos For Sale" while others compete to rank high for the keywords "Dasmarinas Village House For Sale". Your main strategy for SEO will depend on what keyword you would like to rank high for.
I need to stress the importance of having a personal website with proper SEO. You cannot and should not rely on the mercy of real estate portals. Yes, they offer free uploads of listings, but until when? You have to understand that they're in the business of making money. They may offer "freemium" services to attract you to signup, but as soon as you're in their platform, they could take you hostage and require you to pay a fee to make your listings show on top of search results or in order to upload additional listings. Furthermore, they can and will use your listings to boost their own SEO!
If you rely solely on real estate portals to market your listings, you will always be on the losing side. Portals can be a good supplement to get leads, but they should not be used as the only solution.
In 2018, those that do not have their own websites will lose big business, especially once the Real Estate Investment Trust (REIT) gets fully implemented. A personal site is one way of mitigating the risk posed by the changes in the business environment.
SOCIAL MEDIA
Social media platforms play a huge role in the lives of many people.
Last 24 January 2017, Hootsuite and We Are Social Ltd. published a very insightful report entitled DIGITAL IN 2017: GLOBAL OVERVIEW.
They reported that,
The good news is that mobile Internet connections have improved considerably in many developing economies, with The Philippines in particular enjoying an impressive jump in average mobile connection speeds.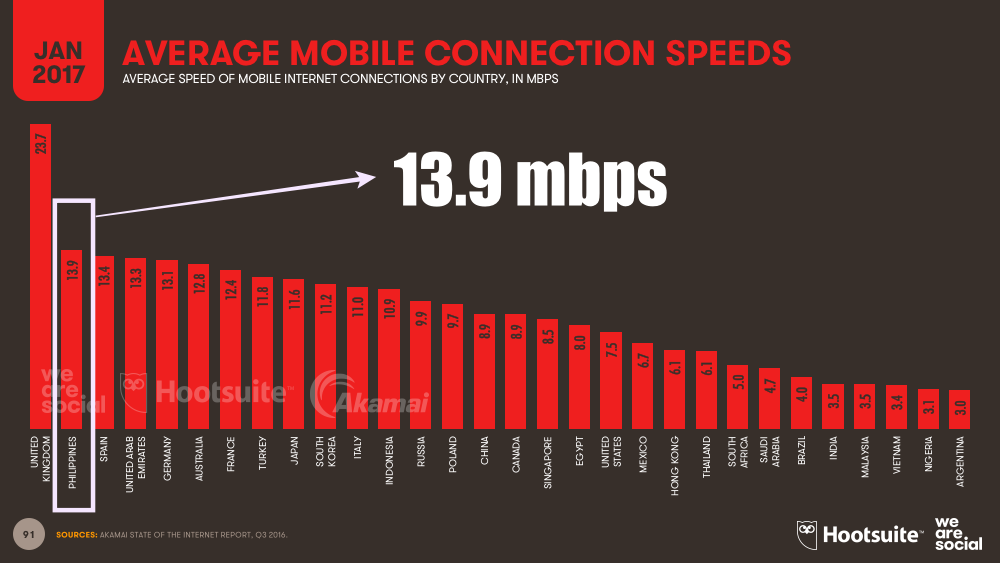 13.9 average mobile Internet connection is not bad. Not bad at all
Additionally, the report stated that,
"People around the world are spending more time using social media too; data from GlobalWebIndex shows that the average social media user in the countries we cover in-depth in this report now spends 2 hours and 19 minutes using social platforms each day.

The Philippines tops the ranking for time spent on social media amongst those countries, with Filipinos spending a full half-hour longer on social media each day than users in second-placed Brazil."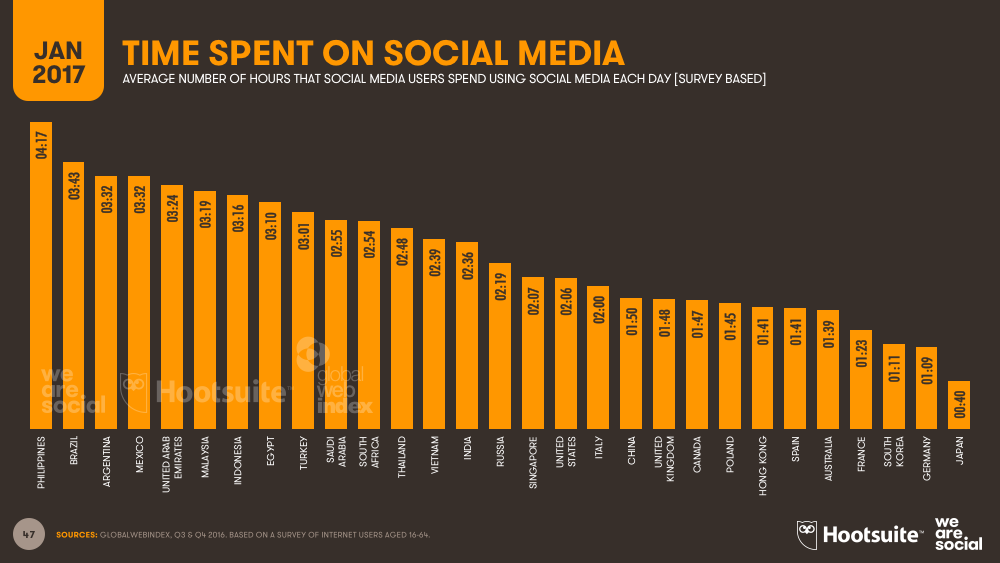 They found out the Filipinos were averaging 4 hours and 17 minutes each day on social media.
This fact gives us more reason to capitalize on social media platforms like Facebook, Twitter, LinkedIn, Google Plus, Pinterest and Reddit, among others. With the use of marketing automation tools, you can easily capture new leads for free.
EMAIL MARKETING
This is mainly for retention of customers. Once you're able to capture the hearts and minds of your current and potential customers, they will trust you and would want to know what you're thinking (content) and what you're selling (listings)—email is your tool to serve it to them.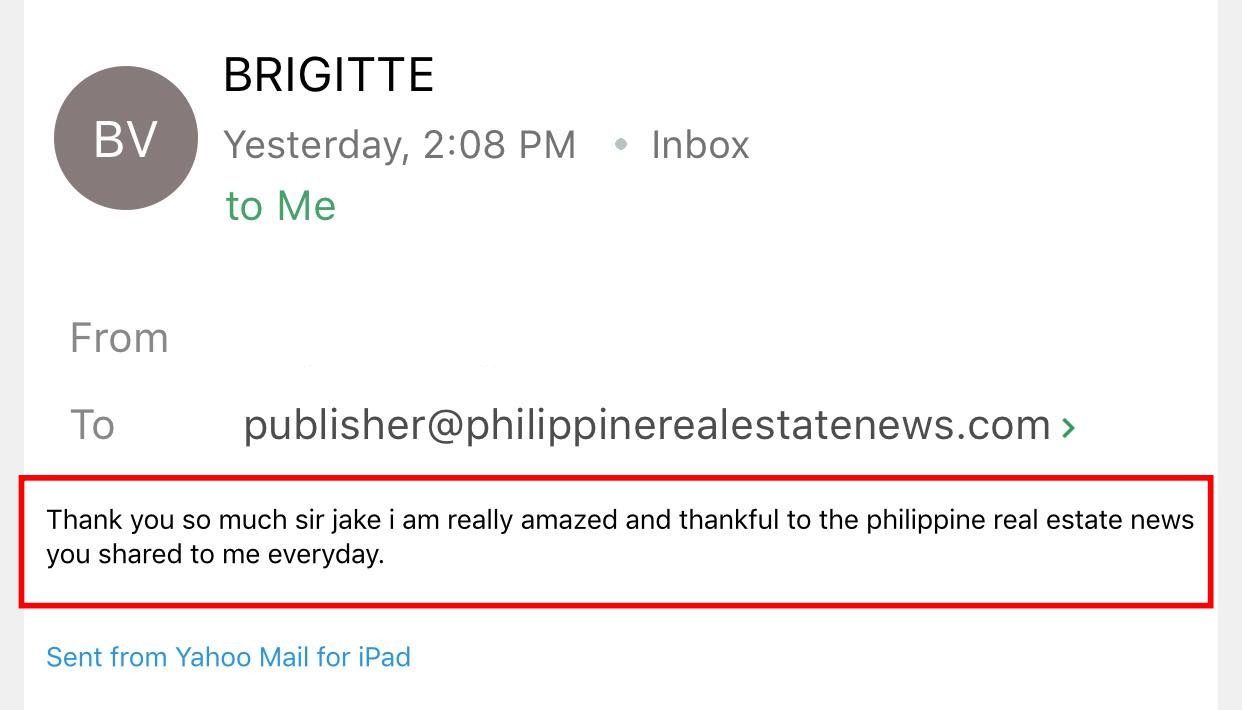 CONTENT MARKETING
In its simplest term, content marketing is the process of creating valuable information and distributing it to your target market for their consumption.
I.e. If you're selling a condominium, your content may range from blogs about the laws on condominium or expenses on condo ownership to graphics about interior design ideas. News and updates about developers are also great content materials, since current and potential customers love learning new info about real estate. If you were going to invest a million pesos on a condo unit, you'd make sure to know all the details you can about what you're getting into, right?
There's a cliché saying: Content is King.
They say this because content is one of the main factors in ranking high on SEO. If you're able to generate great, original content and have hundreds of readers visit your blog to read your content, Google will consider you as an authority on your subject and place your content at the top of the search results page.
I.e. you wrote a fascinating article about lead generation in Philippine real estate, emailed it to your subscribers and posted it on all social media platforms, allowing hundreds of people to read it… Now every time a person searches Google for "Philippine Lead Generation", Google will serve your blog on top of the results page!
Glorious, isn't it? All of these things are interconnected; SEO, social media, email marketing & content marketing.
The perfect combination of these four things will help you generate leads in a sustainable (you can continue cheaply until heaven comes) and scalable way (you can grow this method exponentially).
As first stated, working smart is the guiding principle in the concepts that we have just discussed. These concepts are not new, the long and short term tactics have existed for a decade (or even longer) and information about them are available online, for free. The only thing I did here was to put them all together to create a profitable strategy for lead generation.
In the next article, we will discuss the tools that you can use to execute these concepts.
If you liked this, please subscribe so you can be part of the first people to receive all my publications.